The first "Diocese of Kootenay Special Synod" took place via Zoom on October 1, 2022 with 86 delegates and guests in attendance. It had been decided at Synod 2021 that the intervening years between triennial Synods would be a one-day event focused on the mandated business of Synod and the presentation of a budget. This would clear more time for focus on mission and vision at the next triennial Synod, which would be face-to-face (God willing) in 2024.
The Zoom 2022 Synod was broadcast from the Cathedral of St Michael and All Angels in Kelowna BC with The Most Rev Lynne E. McNaughton, presiding, along with Executive Officer Rev Rita Harrison and Executive Assistant Kate Dalton who controlled the "share screen." Morning Prayer began at 9 am PDT with music provided by the Cathedral Singers. Bishop Lynne began her address with a guided Lectio Divina on the theme of Synod: "Behold, I am doing a new thing." Isaiah 43: 19 through 21 was read and delegates were asked to meditate on what words from the scripture spoke to them.
Lectio Divina has four separate steps: read; meditate; pray; contemplate.
Isaiah 43: 19-21
19 I am about to do a new thing;
now it springs forth, do you
not perceive it?
I will make a way in the
wilderness and rivers in the
desert.
20 The wild animals will honour
me, the jackals and the ostriches;
for I give water in the
wilderness, rivers in the desert,
to give drink to my chosen
people,
21 the people whom I formed
for myself so that they might
declare my praise.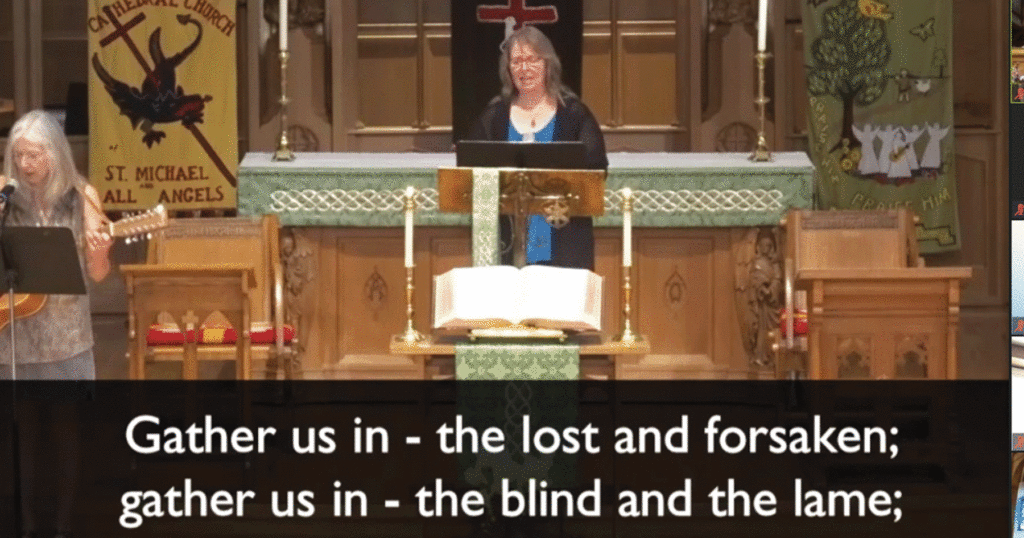 Bishop Lynne made mention of the "Lambeth Calls for Climate Action." She said that an Emergency Response Tool Kit should be developed for each parish so they might be ready for wildfires and floods etc.
After Morning Prayer the "Call to Order" covered various procedural aspects and motions. This was followed by videos produced by parishes called "Green Shoots."
In preparation for Synod, each parish/congregation was asked to record a one minute "green shoots" video and share an example of what is currently giving them hope or intriguing them locally.
To get to know each other, the delegates broke into groups and discussed the videos presented.
Reports given to the delegates then followed: Executive Officer; Structures Working Group; Diocesan Council; Refugee Sponsorship; The HighWay; Kootenay School of Ministry; Archives; Finance.
The Structures Working Group that had been formed at the last Synod gave their report along with a video presentation by Joanne Simpson (chair). The following points were expanded upon:
Vision: A church of disciples of Jesus Christ empowered and equipped to serve and minister in their local community.
Mission: Living Faith, Proclaiming Christ, Growing Churches, Empowering Mission.
Guiding Principle: The Five Marks of Mission.
Together with the Bishop and Diocesan Council, the Structures Working Group will identify individuals who will "shepherd" (champion) each Primary Focus Area into a concrete reality. Over the next year(s) and upon evaluating Synod's feedback and responses on the work to date, the committee will work with the "shepherds" to formulate strategies and plans to achieve the goals in each of these areas. As the work continues, the committee will gather more input and Secondary Focus Areas may emerge from it.
After the presentation, another session of discussion groups took place. The results of these discussions were noted by the Structures Working Group.
The Diocesan financial report was presented by Treasurer, Monty Tuck.
Resolutions were moved by the Executive Officer.
There were no Elections.
Motion of adjournment took place at 3:30 pm PDT followed by Evening Prayer and the Bishop's Blessing.