Let there be greening
A letter from the Most Rev Lynne McNaughton to the people of Kootenay, first published online in Kootenay Contact July 5, 2023
"Let there be Greening" was the theme of the General Assembly, the national gathering of the Anglican Church of Canada, and the Evangelical Lutheran Church in Canada, meeting in Calgary from June 27 to July 2, 2023.
We worked hard during five intense days. I always come back energized from the privilege of participating in the work we are all part of in the National Church and with our full communion partners of the Evangelical Lutheran Church in Canada.
Your giving goes, in part, to parish apportionment (Kootenay Fair Share) which supports the work of the National Church, Council of the North, Indigenous Ministries, Anglican Communion, Social Justice and Development Work in Canada, and with Global Partners, Youth Work (such as the Pilgrimage to Israel Palestine with the Primate which Charlotte Hardy from our Cathedral travelled with), Ecumenical Partnerships and Interfaith Work. As Anglicans, we are part of a much larger Body of Christ. I know many of you followed the live-stream of the Assembly. I encourage you to read the work we do together.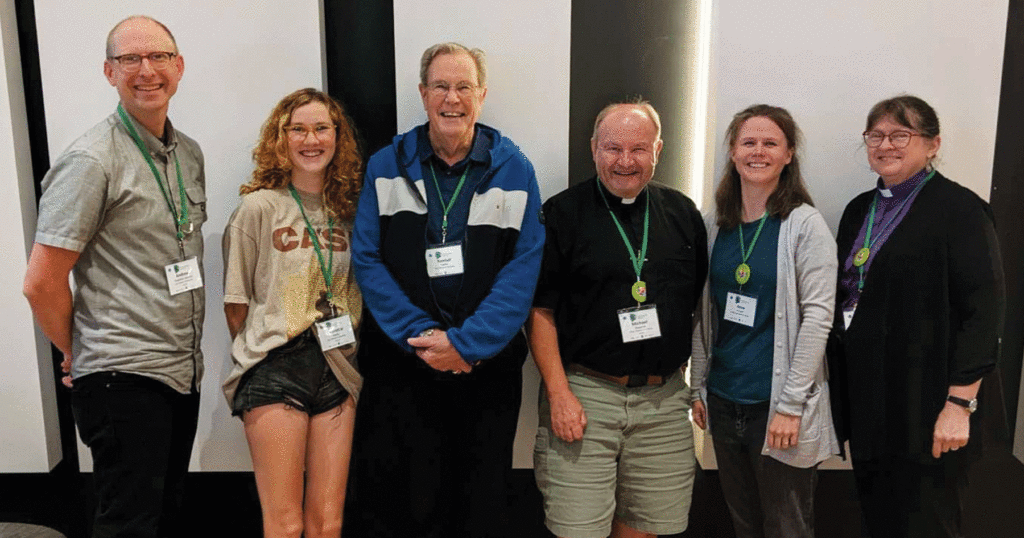 Highlights of this Assembly:
We celebrated the Covenant and Way of Life of a self-determining Indigenous Anglican Church. We had a round dance with drumming – 400 people in a circle was a joyous experience.
Anglicans and Lutherans are now full communion partners with the Moravian Church.
We did some significant work on Peace and Justice in Israel and Palestine, Dismantling Racism in our church, engaging parishes in climate action (Moving toward Net Zero in the Anglican Church of Canada), and continuing our commitments to the Truth and Reconciliation Commission Calls to Action.
The Ecclesiastical Province elected our representatives at the Council of General Synod (which carries forward the work of our Assembly for the next two years). From our Diocese, we send Andrew Stephens-Rennie as a lay delegate and Charlotte Hardy as a youth delegate. Other delegates from our province include: The Rt. Rev. David Lehmann, Diocese of Caledonia as the bishop; The Rev. Walter Kagura, Diocese of Yukon as the clergy rep, Sarah Lehman of New Westminster as the other lay rep.
General Synod elected Ian Alexander, a lay person from Victoria, as the Prolocutor (Speaker) for the next two years. Tanya Phibbs, Diocese of Huron, was elected Deputy Prolocutor.
More details of our General Assembly work will unfold in our Diocese over time.
General Synod 2023 / Assembly 2023 livestream — https://www.youtube.com/watch?v=LlVgllnvM5s
I would like to say, on behalf of the Diocese, a huge thank you to Dr. Randall Fairey (Lay Canon) for the tremendous work he has done in the National Church over many years, as our delegate to six General Synods and as a member of the Council of General Synod for several terms. He has also served on many national committees, including the Governance Working Group in its work to facilitate the self-determining Indigenous Church. Thank you, Randall, for your generous and dedicated service to the Anglican Church!
Our work together in the wider Church fills me with hope!  We are not alone in our service to the world in the name of Christ. We belong to a large company of faithful disciples. Together we are strong.
View the opening address to General Synod by Archbishop & Primate Linda Nicholls — https://assembly.anglicanlutheran.ca/news/primate-opens-43rd-general-synod-with-focus-on-diversity-and-transformation/
Yours in Christ, +Lynne   
The following are two reflection by delegates about their experiences at General Synod.
My Experience of General Synod
By Charlotte Hardy
Going to General Synod in Calgary was a lot less intimidating than I thought it was going to be. After my Pilgrimage in May, I knew two other youth delegates from across the country. It was a great little reunion for us!
It was empowering as a youth delegate to be able to connect and reconnect with other youth/young adults from across Canada. Sometimes it can feel very lonely being a young adult in the Church, but General Synod made the Church feel more alive.
Everyone at General Synod was warm and welcoming, I arrived a few days late due to a conflict with my Work schedule at Camp OAC, but I was quickly engaged with what was going on. When I was lost on procedures my table mates were extremely helpful, we were all from different parts of the country, so it was amazing to learn about the perspectives from different parts of Canada.
Meeting for Assembly was an extremely eye-opening opportunity. I did not fully know or understand what "In Full Communion" meant until we met. We have officially invited the Moravian Church into Full Communion with us as well, which is amazing!
Reflections on General Synod
By Rev Canon Anne Privett
Thank you for electing and sending me as a clergy delegate to General Synod this year! We covered a lot of ground this Synod which left delegates with much to think about. General Synod left me with 5 main questions, which I have tried and failed to summarize in less than 200 words! So if any of the headings below pique your interest please do visit this link to a longer article written for the parish of St. Andrew's, Kelowna: https://shorturl.at/bkR45
Easy Governance or Good Governance?: Leadership in Times of Transition
The Role of the National Church: Strengths and Questions
Let there Be Greening: The Indigenous Church
How we Gather: Time for a Change
The Body of Christ: Gifts in Community
Our church is full of marvelous people from such different contexts. It reminded me of one of my favourite Rowan Williams quotes: "The way I am to be sanctified – to be made like Christ — is not your way. But it is only formed in and with you. That is the glory and paradox of the church." I am grateful to the Kootenay delegates for engaging this glory and paradox: Randall Fairey, Andrew Stephens-Rennie, Charlotte Hardy (who did a great presentation on her pilgrimage to the Holy Land!), Rev. Deacon Michael Shapcott and Bishop Lynne.