This summer included a week serving as chaplain to Camp OAC together with my spouse Leanne, where we enjoyed being part of the dedicated camp staff for the Junior campers, aged seven through eleven.
Camp is filled with all kinds of unique sights and sounds — from the early morning stillness of the water lapping at the shore; to the songs and calls of the birds; from the Loons out on the lake; to the Quails rustling around under the cover of the low bushes.
I noted all week the way being at the Camp offers a unique interface between the sounds of nature, and the sounds we bring with us from life at large, particularly those of music. Drifting in from the water come the sounds of the summer boaters, blasting tunes of all kinds to accompany water skiers and wakeboards, and from camplife itself: songs for grace at meals to worship songs at chapel to pop songs played under the gazebo to accompany fun and games.
The significance of song across that whole range of life's moments resonates, uplifts, accompanies, and resists. This summer especially, this range seems to be front and centre and at large, from the exuberant return of music festivals, to the most serious of songs; such as that from Si Pih Ko in Maskwacis AB before Pope Francis, sung in Cree from the depths of anguish with a voice of resistance, to the tune of O Canada, with words that drew to the fore the Great Law of the Indigenous Peoples as not being set aside by imposition, but rather as ongoing and connected to the Creator. It is a song to be contemplated and carried forward into reflection in relation to all our other songs. [LINK: https://www.cbc.ca/news/canada/manitoba/cree-woman-singing-papal-visit-1.6535055]
Similarly, in July at the Cathedral, a first-generation residential school survivor and classical pianist, Daryl Verville of Nelson, held a book launch and musical presentation of his recently published memoir: "Epistles to the Pope." Verville shared from the pain that has marked his own life by way of his father, who suffered abuse at residential school and carried that forward, but who would not speak of it. Daryl came to view his father as a monster, but one that as far as he knew had no cause for it. Daryl shared that it is only as these things have finally come to light, after his father's death, and accompanied by music that navigates both the dark and the light, death and life, that he has been able to find a path of compassion and forgiveness in his own life.  [LINK: https://www.nelsonstar.com/news/missing-notes-the-traumatic-family-history-of-nelson-classical-pianist-daryl-vervil.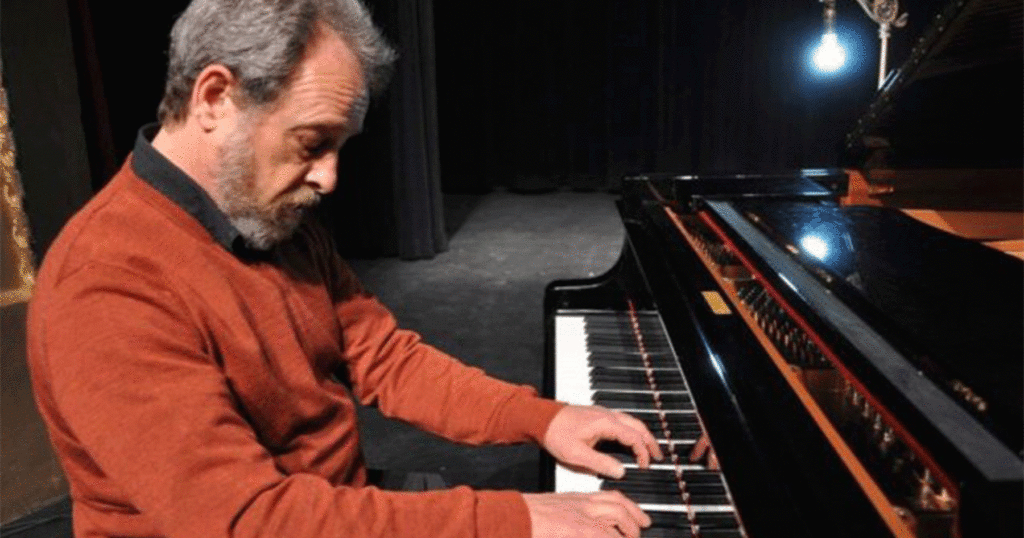 In pop culture, the monstrous has been most present this summer: those of you who have young people in your lives may have found yourselves drawn into watching the fourth season of Stranger Things on Netflix, classified as a "sci-fi horror drama." Having teenagers, this has been unavoidable viewing in our household — and I noted even at the Junior Camp for 7-11 year olds, that Stranger Things t-shirts were in evidence. The series taps the monstrous in ways that are chilling, but is also marked by much humour and by the centrality of friendship, especially in confrontation with the darkness — both individually and collectively, both internally and externally. Here again, music is presented as offering a pathway through the darkness and out of the grip of death. Kate Bush's 1985 song "Running Up That Hill" is enjoying a resurgence of popularity because of Stranger Things, and seems to have become the "song-of-the-summer."
The song's subtitle is "A Deal with God," and it speaks of taking on the pain of another:
"And if I only could
I'd make a deal with God
And I'd get him to swap our places
Be running up that road
Be running up that hill
With no problems"
In the midst of the various and continued challenges of our times, it seems to me that there are many points at which a cultural-spiritual witness to name truthfully the complexities of our lives continue to emerge, especially through song. The Psalms, as biblical songs, join this chorus, offering a path to walk with both God and one another. Psalm 137, for instance, asks in a time of displacement: "How can we sing the Lord's song in a strange land?"
And Psalm 13 asks "How long, O Lord?
Will you forget me forever?" A raw question from the depths; and yet one that also points out a path toward renewed trust and joy when God's goodness is recalled, concluding in a determination to continue in song: "I will sing to the Lord who has dealt with me richly."
May we hear, in both silence and song, such sounds as lead to Life. Amen