Elizabeth was born in Cambridge, England, the third of three children, with older brothers John and Richard Morley. She spent her formative years in Great Shelford and attended the local church school. At the age of eight, she joined Perse School for Girls in Cambridge where she met and became life-long friends with Tessa Beresford and Angela Wright. Elizabeth's interest in nursing was formed early and she was a member of the Red Cross.
After a short spell as a secretary, at the age of 18, she decided to train at St Bartholomew's Hospital in London and formed more life-long friendships with five student nurses: Elizabeth Coles, Jenny Edge, Jan Porter, and Rosalind Woodward. They started training together in November 1960. In 1968, she sailed to Montreal with Elizabeth Coles and initially they worked in Calgary. A holiday trip to New York followed, spending time there before cruising to Bermuda and then moving to and working in Kelowna and then Vancouver. She worked as a nurse, head nurse and nurse manager during this time, taking every opportunity to learn and to develop her skills. While working at St Paul's Hospital in Vancouver, Elizabeth regularly attended church for the sense of community, worship services, and spirituality it provided.
It was at Christ Church Cathedral that Elizabeth met her future husband Douglas. They married in 1970 having phoned her mother, who had been on her way to visit, to 'bring a hat.' The couple lived in Vancouver for a few years and then re-located to Trail, British Columbia in 1972. First Kathryn and then Iain were born in Trail and they made a life in the community so Douglas's mother, Violet Lewis, moved up to Trail to be with them. Best laid plans were not to be and the family were on the move – firstly to Calgary and then to Medicine Hat, Alberta. In 1979, the family thought there would be better opportunities in England so they relocated again and, after a few years, settled in Flitwick, Bedfordshire where they lived and worked as well as being active in the church community of St Paul's, Bedford and All Saints Church, Margaret Street London.
Elizabeth kept her links to nursing and took over a nursing recruitment agency, building it to be the most successful branch outside of London. She liked to keep busy and form connections – she did this with passion and boundless energy – forming and retaining long lasting friendships with her clients and nurses. Once her children had left home in 1996, she was invited to take on the challenge of setting up a similar nursing agency in Toronto, Ontario. She grabbed this with both hands and relocated once more. Douglas followed and they spent three happy years in Toronto before responding the need to look after her mother-in-law Violet. Always pragmatic, they packed their belongings into a u-haul and, with her brother John helping, drove across Canada over seven days to their new home in Fruitvale. Violet Lewis moved in and Elizabeth, with the help of close neighbours John and Wendy Wurflinger, and members of the Church, cared for Violet for the last years of her life.
Elizabeth loved music, dance and opera. As a family, they regularly attended concerts; as parents, they supported Kathryn and Iain as they learned their musical instruments. They were able to support Kathryn as she went on to study music and perform and Iain with his career as a photographer. In more recent years, Elizabeth has supported both of her grandchildren as Jude learned violin and Audrey clarinet and, most recently, saxophone.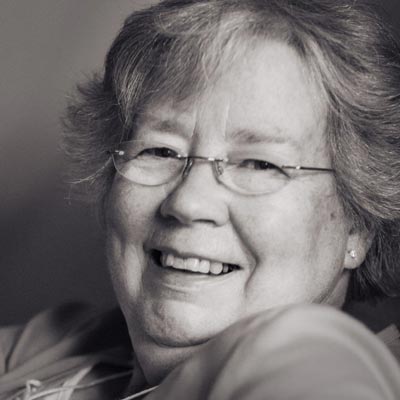 Elizabeth was active in the Fruitvale community and wanted to do more, especially within the West Kootenay ministry. She trained, and was ordained Deacon, in St. Saviour's Pro-Cathedral in Nelson by Archbishop David Crawley on October 16th 2004. Along with several other ordinations for the mutual ministry teams in the West Kootenays, Douglas Lewis was ordained Priest at the same service. Her indefatigable spirit helped to overcome the various challenges the church faced – fundraising efforts and even Covid was no match for Elizabeth as, in response, they created their online church community.
Everyone who knew Elizabeth would talk about the dining room table groaning under food. She was happy to try new recipes and more than happy to spend hours in the kitchen preparing favourite dishes. "Never knowingly under-catered" – everyone who knew her will miss her passion, energy and lust for life.
Active, and catering until the very end, she was celebrating with the ministry team in Fruitvale when she had a stroke. She had always wanted to be active until the vary end and died on Monday 11th October in Trail Regional Hospital, BC. Her husband Douglas was by her side and they were supported by their Archbishop, Rector and close friends.
Editorial Note: ***
Elizabeth was a frequent contributor to The HighWay. We personally experienced her warmth, kindness and "heartiness." She exemplified the very meaning of a deacon: as a servant for the people, of the people and to the people. J&M