The Sweet Fusion of Church and Community
What brings people together more than a good meal? An even better dessert! Over the last few months, the Lutheran Anglican Refugee Committee (LARC), its family churches, and the local Syrian community were baking up a storm in anticipation of our Syrian Sweet Social on Saturday, September 24 at the Cathedral Church of St Michael and All Angels in Kelowna.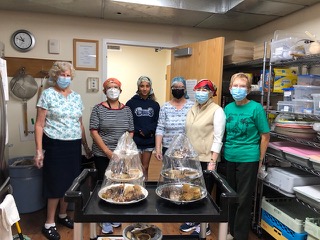 Our Syrian Sweet Social raised awareness and financial support to date of over $4,800 for the new Syrian refugee family coming into our community.
The Anglican Diocese of Kootenay works as a Sponsorship Agreement Holder (SAH) with Citizenship Canada to sponsor refugee families. We are a private community group that can support refugees as they resettle in Canada. We are committed to helping our refugee families engage and grow in their new community. LARC supports a family for one year, including housing, healthcare, education, job training, personal needs, and social support. We are funded entirely by our church member groups and individual donations.
Member churches of LARC include Christ Evangelical Lutheran Church, Faith Lutheran Church, St Andrew's Anglican Church, St Mary's Anglican Church, St George's Anglican Church, St Margaret's Anglican Church and the Cathedral Church of St Michael and All Angels.
The words of Holy Scripture are full of calls to reach out to the vulnerable and those in need, to welcome the stranger and genuinely love our neighbours as ourselves. The real work of the church doesn't happen on Sunday mornings. The real work happens when we, the people in the pews, live out our faith in our daily lives by helping and caring for others. Our refugee families might come to us as strangers, then they join us as friends.
LARC would like to express its gratitude to all those who volunteered their time and talents for the sweet social: our musicians, our silent auction sponsors, our bakers, our setup and clean up crews, our Syrian brothers and sisters that came in support of their community, and to those that came from across the Okanagan to join us at the table and experience the sweet taste of real community.